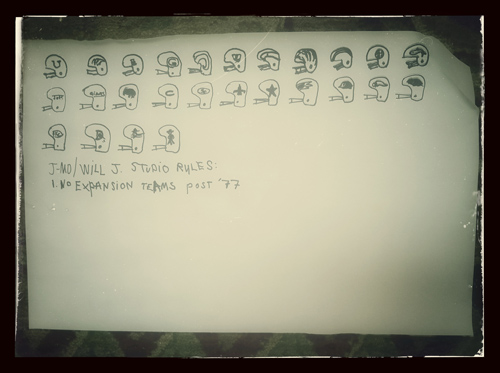 Late one night in March of 2004 I was introduced to Jason Molina at the northwest corner of 6th and Red River in Austin, Texas. He was wearing a green military style jacket with a black t-shirt underneath that had some sparkly script on it. I think it had something to do with country music. When we shook hands, he said: "Songwriter, right?" I said yes. We talked for a few minutes, realized a mutual admiration and connected some dots through various folks that had previously linked us from afar. I'd been a fan of his work for five or six years by that point. Before we parted ways I made sure to convey to him that on a recent, very long tour around Europe, the Songs:Ohia Magnolia Electric Company LP had become a place of musical sanctuary for me. His expansive, remarkable voice, and those songs became a crucial source of counsel over those miles and nights. A needed and regular companion just before sleep.
We didn't keep in touch but we'd see each other around here and there, usually in some South by Southwest stew of haste; in a club or makeshift venue we'd never been to before, and probably wouldn't return to again. During those years I was dedicated to seeing Magnolia play any chance I got. They'd fast become one of my favorite bands, and their recordings were usually in regular rotation on my pickup truck solo tours. I went to see them at Emo's on September 13, 2007, and they were in astonishingly good, mid-tour form. Afterward Jason and I wound up talking at the merch booth for a while. We discussed the types of hats we were comfortable enough wearing onstage, and found we both had long-running affection for the color of pumpkin orange. He had strong opinions on both topics. He seemed to have strong opinions on everything. When the 2am house lights went on and we started into our farewells, he flatly said that we should make a record together. I agreed. He suggested that we start the session during the first full moon of 2008. We swapped email addresses on scraps of paper and said goodbye. I drove home inspired.
Jason emailed to follow up on it within 48 hours. I didn't know him well, but I liked him a lot. Over the next few weeks I came to find out fast that he was very dedicated to this idea. We missed the first full moon of the new year, but secured his plane ticket and reserved our dates for February 2008 at the Echo Lab in Argyle, Texas. The idea we talked about on the followup phone calls was each bringing five songs in, then seeing where it went from there.
When I arrived to the studio he was on the back porch with a cigarette in hand, at the ready. He'd come all the way from London, and I was the one that was late. He wanted to get a thesaurus, so I drove us into Denton. We found one that was suitable, along with guitar strings and groceries for the next few days. After that we drove south to the Swisher Road Wal-Mart, where we filled a shopping cart with various types of notepads, packages of colored construction paper, Post-It notes, a box of Sharpies, a box of Mirado Black Warrior pencils, a case of Lone Star beer, a Daisy BB gun, and plenty of BB's for the week. He was very specific about the Black Warrior pencils.
I'd rented a cabin in Mississippi a few weeks earlier to write toward our record. I came back to Texas with a handful of songs I wanted to try, and realized after we each tracked one apiece that first night that I would shelve them all for another time. He recorded a version of "Wooden Heart", and I recorded something that I later wrote off as a bad fit, and about 60 percent shitty. Overall there was a feeling of great happiness between us that night. We had porch beers late, and slowly concluded that the record would be better suited by writing in the moment, on the premises. Clean slate. The next day he set up a writing station in the band apartment, and I set one up in the iso-booth. For the next nine days we workshopped everything, backing each other readily, working diligently together, and at times alone. We tried to be the best singers, multi-instrumentalists and side-people we could be for one another. We were industrious, prolific, and inspired. We barked at each other when a line wasn't right, and left our politeness at the door when it came to the writing. His humor was great, and there was a good balance and rhythm to our days. It felt like camp. Any time there was a needed moment of therapy we stepped out back and shot the BB gun into the woods, or at various targets we'd set up.
Jason was usually the last to bed every night, and the first one up. I'd wake up on the lounge futon and often the first thing I would see through the window was his silhouette or shadow on the porch, pacing, with cigarette in hand. Sometimes with a beer. Loyal and ready. He worked on his songwriting with the care and attention of a gifted and obsessed technician. It was an incredible dedication to look upon, this relationship that pulsated between Jason and the song. I learned a lot from him in those days. I watched the way he worked lines and verses over and over, sitting at that little desk, and on occasion found myself in awe of his tirelessness. Our surroundings were littered with paper. Drafts, chord sheets, fragments on pages, notebooks, and final lyric sheets. My longtime friend and bandmate Matt Pence was engineering the project, and was a source of great direction and guidance for us. Mikey Kapinus, Howard Draper, Sarah Jaffe, Bryan Vandivier, and Scott Danbom all dropped by or stayed with us at various points to help see it through. They were all integral to the session's morale and spirit. They each performed beautifully and we were lucky to have them involved. We recorded and mixed twenty-two songs in nine days.
That last night Jason and I sat down outside and worked out the sequence of the record. In my experience this has often been a lengthy headache of a puzzle, but we agreed on the order in about thirty minutes. We then took various notes, lyric scraps, and artifacts from the session, put them all in a Ball jar, and buried it out back. Our own time capsule. We stacked all of our notes and lyric sheets up on the table and looked through them. We'd written a lot for just a short time together. He requested that I keep them all together and safe, and we immediately jumped to the idea of making another record together. We stayed up late and said our goodbyes the next morning. I didn't know I'd only get to see him one more time after that.
Secretly Canadian kindly released our record in November of 2009.
I won't write much about our cancelled tours. I can only say that I don't think Jason was in any condition to tour then. It wasn't an easy time for a lot of us simply given the fact that we loved him and cared for him. We didn't want to see him struggle.
For the next couple of years we relied on phone calls and emails. My guess is that that's the way it went with him and most of his friends during that time. We didn't talk often, but when we did it was usually at great length and not without difficult moments. We still discussed the idea of re-circling the wagons and recording again. In 2011, because of his living quarters' regulations, his communication was reduced to letter-writing. We exchanged a few, and it was a practice I liked. His last letter made me grateful for our friendship, the time we had together, his generosity, and the faith he had in his friends and strangers alike. There was a noticeable tone of of peace in his last letter, and I hung hope on that for most of the past year. That's what made getting the phone call on Sunday even tougher. So many of us were hopeful he would outrun the badness. So many of us will miss him terribly.
I will always love his voice, and I will always love his writing. I feel confident that I'll listen to his songs for all my life. We have undoubtedly lost one of the great writers of our time.
In that last letter he suggested that I make a Homerun Baker baseball painting. He explained to me that his father used to deliver newspapers to the Hall of Famer, and it was said that later in his life Baker paid for everything with Indian Head pennies. I made that painting last month with Jason in mind, but never told him I'd made it. I meant to. Every time I looked at it over in the corner I thought of him, reminded that I needed to write soon. I don't think reaching out would have changed history. I don't think the story would have changed. It's a matter of being left with the feeling of wishing I'd done something I just didn't do.
Connect when the feeling strikes. Work on loving. Work to avoid regret. Because a lot of the time it's hard to tell what the last time looks like.
-Will Johnson/Austin, TX March 21, 2013