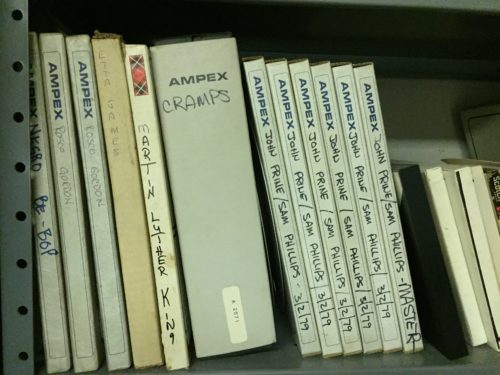 MARIE/LEPANTO – TENKILLER LP RELEASE
On February 18, 2016, my friend Justin Peter Kinkel-Schuster and I had a show in Memphis. We were nearing the end of a tour together, got to town early and decided to stop in at Sam Phillips Recording to see our mutual friend Jeff Powell. Jeff helped produce Centro-matic's Fort Recovery LP back in 2005, and was soon to mix Pete's full length LP, Constant Stranger. He'd recently moved his vinyl cutting service to Phillips, was starting to engineer sessions on the premises, and gave us the full tour that afternoon. The space and studio was functioning again after years of inactivity, though much was still in place as far as gear, fixtures, furniture and artifacts go. There were roughed up master tapes along the shelves with labels reading: John Prine, Etta James, Martin Luther King, The Bar-Kays, and Sleepy John Estes, and the small bar area upstairs looked as if it might've hosted a gathering only a night or two before. Old phone books, magazines and long-obsolete office equipment lay in boxes upstairs, and the place smelled spooky, worn, and wonderful. Cash, Orbison, Prine, Dylan, Booker T., The Yardbirds, Levon Helm, and many other greats had recorded there, and it was easy to feel overwhelmed by the building's history. Before we exited the live room, Jeff pointed up to the (session-stopping) bullet hole in the ceiling that Roland Janes had put there late one night many years ago. Somewhere feathered into our farewells, it was suggested that we should stop in and do some recording. As the conversations continued with Pete over the remainder of the tour, it became a clear no-brainer. You write a few. I'll write a few. We'll meet back in Memphis in six or seven months.
We reconvened in September with Powell at the helm, tracking ten songs over four days. We tried to be the best backing musicians we could be for each other, relentlessly ingesting as much Cozy Corner barbecue and Gus' Fried Chicken that time would allow for. We circled back for a couple of overdubs and final mixing with our friend Clay Jones a few months later. We decided on the name Marie/Lepanto for geographical reasons relating to our respective birthplaces and home territories.
With many thanks to Bruce, Graham, and all at Big Legal Mess/Fat Possum, our record comes out today. Thanks also to Bob and everyone at Undertow, Nick Loss-Eaton, Jeff Powell, Clay Jones, Angela Backstrom, Christian Helms and all at Helms Workshop for helping make this record go. We're happy it's in the world.
BUY "TENKILLER"
Direct from Undertow: https://tinyurl.com/Tenkiller
Everywhere else: http://smarturl.it/Tenkiller
TOUR WITH PEDRO THE LION
We'll do the first leg of Marie/Lepanto touring as support for our friends Pedro The Lion. It means a lot to get to ride the roads with them for a few weeks, and we're grateful to be invited. More dates for April and later in 2018 will be announced soon.
Feb. 8 – St. Louis, MO / Old Rock House
Feb. 9 – Kansas City, MO / Record Bar
Feb. 10 – Tulsa, OK / The Vanguard
Feb. 11 – Fayetteville, AR / Living Room Show*
Feb. 12 – Dallas, TX / Trees
Feb. 13 – Austin, TX / Waterloo Records In-store at 5pm*
Feb. 13 – Austin, TX / Mohawk
Feb. 14 – Houston, TX / Rockefeller's
Feb. 15 – Baton Rouge, LA / Living Room Show*
Feb. 16 – New Orleans, LA / One-Eyed Jack's
Feb. 17 – Birmingham, AL / Saturn
Feb. 18 – Gainesville, FL / High Dive
Feb. 19 – Orlando, FL / The Social
Feb. 21 – Carrboro, NC / Cat's Cradle
Feb. 22 – Atlanta, GA / Terminal West
Feb. 23 – Nashville, TN / Exit/In
*Marie/Lepanto only.
Tickets links for all shows available at http://www.marielepanto.com/tour-dates/
Thank you. -Will J.
Now playing:
https://youtu.be/-WgdD3F73CY